Harry Potter Movies In Order
The Harry Potter movie series is one of the most successful movie sagas ever. All eight films have grossed a worldwide total of over 8 billion dollars, exceeding even the wildest expectations. Starting in 2001 with "Philosopher's Stone", this series has gone on to set numerous records including highest weekend box office earnings. Originally adapted from the book series, this franchise has went on to become ingrained in popular culture. It's almost impossible to not have heard about Harry Potter! And for good reason too, each release of this series has lived up to the hype, coming under heavy critical review, and each movie consistently coming out on top.
This epic series was concluded by "Deathly Hallows – Part 2" in 2011, which sealed this movie's fate in history. The final film in the saga achieved a higher rating than any of the movies before it, earning an incredible 96% on Rotten Tomatoes. It's also the fourth highest grossing movie in the world. However, that's not to downplay the other movie's ratings, which were all around the board very high. Many ratings tend to dip as a series progresses, but not Harry Potter which held out strong until the end.
The only way to enjoy this massively popular journey is to start at the beginning.   Watching the Harry Potter movies in order allows for a more complete experience rather than picking and choosing which ones to watch. In order to fully understand what's going on in the story line, watching every one of the movies is necessary.  Typically you can pick and choose which movie in a trilogy you watch and still have a positive experience.  With Harry Potter, each story builds on top of the other to form a bigger picture.  While it may be possible to skip a couple and still understand what's going on, watching them all is definitely preferred. Additionally, each movie follows a chronological timeline.
Another reason to watch them in the proper order is to watch how the characters grow and evolve.  Each movie you learn something new about a character and apply it how you wish.  For every Harry Potter story released, the characters grow up another year, both in real life and the films.  It's enjoyable to watch the actors literally grow up over the years, and watch how their acting style changes. Each release is a new school year at Hogwarts School of Magic and a new year in their lives.  Sometimes a character goes from good to evil in a single movie, so it's extremely important to not miss a single one and follow along closely.

List of all of the top Harry Potter moments
Like many quality films, Harry Potter was first adapted from a seven part book series. The last book, "Deathly Hallows" was split into two different parts for the movie adaption. The first book in the series was written by JK Rowling and released in the UK in 1997 and the U.S in 1998. Even the first book release was extremely successful with the book topping the New York Times bestselling fiction books in 1999, where it would remain until the following year.
Subsequent years would prove that Harry Potter was something truly special. The overall opinion of the books was favorable, and the fan base was steadily growing. The series eventually became so popular that new book releases were actually guarded by armed guards under lock and key. This was to prevent thieves from releasing the stories' secrets to the public ahead of release.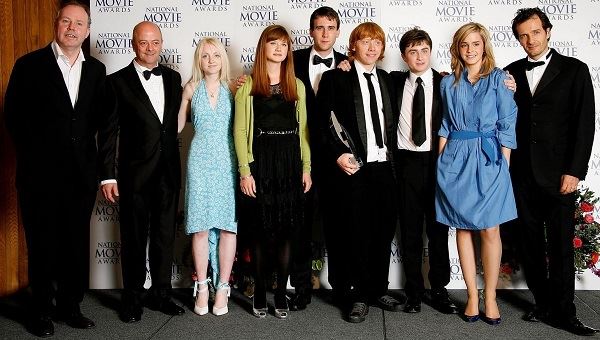 Both the movie series, as well as the books have set numerous records for their popularity. The book series ranks number one in the world for most popular series. Combined there have been a total of 450 million books sold with the next highest series being "Goosebumps" at a mere 300 million. Not so shockingly, it's also the highest grossing film series of all time as well. The entire series has earned its makers the #1 spot where it will remain next to Marvel Cinematic Universe, James Bond, and Star Wars. Clearly Harry Potter has earned a spot in movie history and will share a spot next to other legends for years to come.
If you haven't been following Harry Potter from the beginning, it's not too late to start paying attention now. Sure, you missed the initial hype surrounding this story, but starting at the beginning and following the series in order is something you can still do. Because of its huge success, you'll be one of many people to embark on this amazing story for years to come. Remember, it's not the most popular book and movie series in the world for nothing, it's a fun, exciting, and truly awesome story to follow.